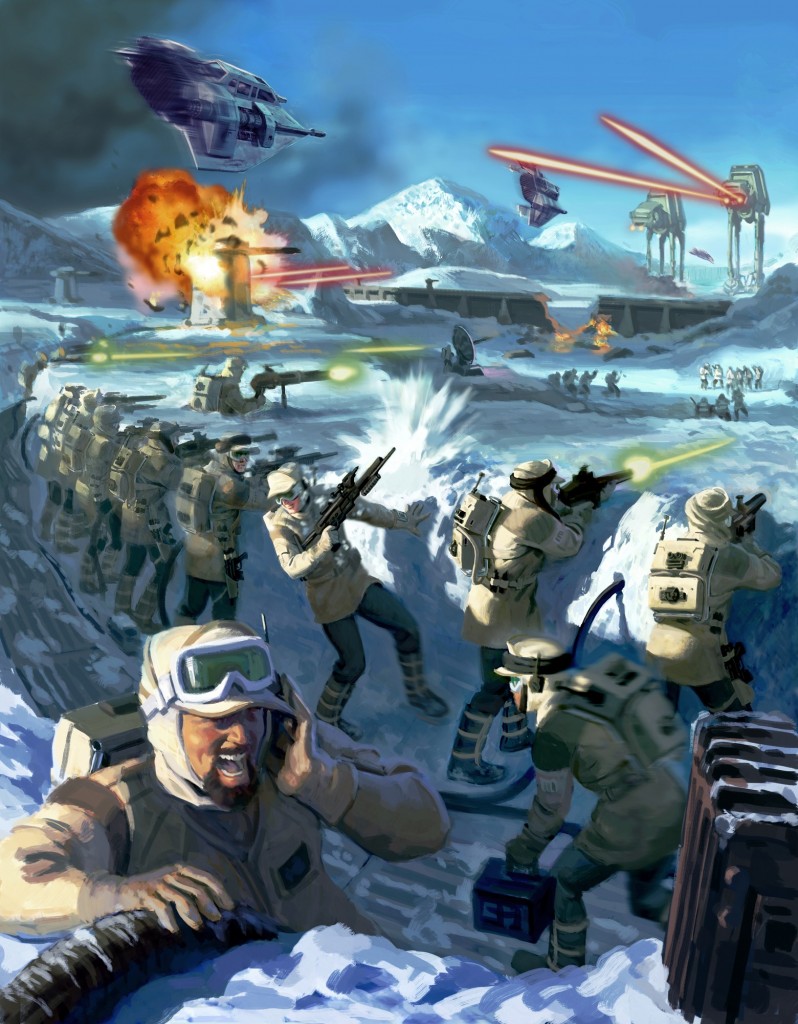 In the luxury world of Champagne, a small rip has appeared in the king's frock.
There has been a descension in the ranks.  And this thread may unravel to reveal the true beauty that lies underneath the polished exterior.
After centuries of domination, the massive Champagne houses are now seeing small renegades rising out of the cracks of their precious chalk soil.  Who are these brave stalwarts?  Multi-millionaires sweeping in with even-deeper pockets?  An operation named 'Buffett & Gates' House of Bubbles' setting up shop next door?
No, my friends, they are the grape growers, themselves.  The little guys who own small parcels of land.  Traditionally, they've provided the prized grapes and juice to the Moets and the Cliquots.  But now, a select few of them have decided to make their own wines from their own grapes.  They are the resistance in the world where the Death Star is fully operational.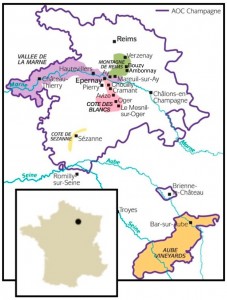 To give you a sense of the hold the mega brands—Moet & Chandon, Veuve Clicquot and Mumm, to name a few—have over the market, it helps to know that they produce more than 80% of the total output but only own 12% of the vineyards.  They buy from many different growers (sometimes as many as 80 different ones) to meet their output needs and to blend their "house-styles"—a process that essentially whitewashes away any specific vineyard characteristics.
Today, there are more than 19,000 independent growers in the region but due to the economics of producing themselves, only 5,000 of them make their own wines.  But they are finally coming into the spotlight.  Consumers and sommeliers, alike, are finding single-vineyard representations that are astounding, and truly expressive of the terroir of the region.
I recently tasted two examples from L. Aubry Fils, part of the Terry Theise collection of grower's Champagne.  Owning 17 hectares of vineyards (approximately 42 acres), the Aubrey brothers produce only 11,700 cases of wine.  Compared to the more than 2 million cases produced by Moët & Chandon and the more than 1 million cases produced by Veuve Clicquot, this is a tiny drop in the bucket.  I was bowled over by their uniqueness.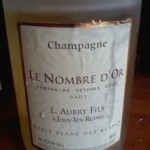 Le Nombre d'Or Sable Blanc des Blancs, L. Aubry Fils, 2004
(40% Chardonnay, 30% Petit Meslier, 30% Arbanne)
In 1989-1990, the Aubry brothers planted the traditional Petit Meslier and Arbanne grapes, two white varieties that have long been forgotten in the Champagne region.  Light straw in color with hints of golden thread.  Cream puff pastry, meringue and a hint of gunmetal on the nose.  Silky and vibrant like a velvety mouthwash that leaves one feeling zippy and ready for a French kiss.  A tartness on the palate reminiscent of Pop Rocks candy or a tart lemonade served from a silk chalace.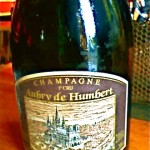 Aubry de Humbert, L. Aubry Fils, 2004
(Equal parts Pinot Noir, Pinot Meunier and Chardonnay)
Named for Aubry Humbert, the archbishop of Reims who laid the "cornerstone" of the Cathedral on May 6th, 1211, this is a coeur du cuvée selection (meaning only the 'heart' of the juice is used, with the first and last pressings not being bottled).  Light straw in color, with rich aromatics of strawberry cream flecked with flint and lemon meringue.  A big, round, complex body with an elegant fatness from the red grapes.  A cleansing acidity which washes from front to back.  Rounder in its acidity than the fencing sword blow of the blanc des blancs.
For anyone who supports local farmers or praises artisan production, wave your rebel flags in support.  Ask your local wine shop and restaurants to get on board.  In 1997, growers sold only 0.62% of the total Champagne exported to the US, and today its somewhere just over 2%.  Let's change that.
These guys are flying the Millenium Falcon and there is no better place to ride than in the cockpit with Han Solo.