Forget wine. Forget beer. They're mere newbies in the world of fermented beverages. Mead is the patriarch, the original, the granddaddy that launched the human fascination with alcohol. But, strangely enough, it's fallen out of fashion. How could this be? This was the drink of Aristotle and the Ancient Greeks; the drink of the brave Danish warriors in Beowulf. But now? Where have you gone, mead? It's time to reclaim your glorious throne.
Mead is a true symbiosis between insect, nature and man. The bees are king. And for lovers of terroir, their honey is as reflective of their home as any Pinot Noir grape.
Just like with grapes or cheese or oysters, honey tastes different the world over. Be it from clover plants, wildflowers or orange blossoms, bees transport the various flower nectars in their stomach (where it is combined with digestive enzymes), later storing it in a honey "cell" or "comb," allowing it to partially dehydrate. The types of flowers and plants in an environment—such as those found in a high-altitude meadow in the Alps—and their inherent flavors and characteristics come through in the taste of the honey.
The bees are the conduit, the driving force. They are the backing beats of John Bonham to the stage-shredding antics of Jimmy Page. While there are over 20,000 species of bees, only about seven of them are true honey bees (genus Apis). These are the gatherers of the gold that humans have chased around the world for nearly 10,000 years, prizing their valuable booty like pirates do their loot. Having both antifungal and antibacterial properties, honey won't rot or ferment in normal conditions. It's a complex mixture, primarily consisting of glucose and fructose. And it's a perfect human food. A satchel of honey will provide nourishment and energy to a well-worn tribe of hunters chasing Wooly Mammoths across the tundra. And after discovering that…they soon discovered mead. And then the warriors were really happy.
The earliest archeological evidence of the production of mead dates back to 7,000 BC in Northern China. Pottery fragments were found with a mixture of mead, rice and other fruits along with organic compounds of fermentation. They were making booze. The mead was flowing. And honey was tops. Across the world, centuries later, Scottish warriors gathered in massive mead halls where the feasting, boasting and drinking were legendary.
It's time to channel your inner warrior and philosopher. It's time to rediscover the beverage that predates them all…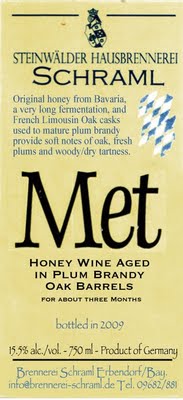 Met, Steinwalder Hausbrennerei Schraml, 2009, Bavaria
From a third-generation distiller. The Bavarian honey sees a very long fermentation, followed by aging in 30-year old French Limousin Oak casks (approximately 3 months) which were previously used to mature plum brandy. Notes of honey-bathed plums, bright lemon citrus and a slight tannin profile from the oak. (15.5% abv)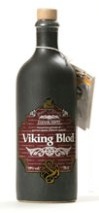 Viking Blod, Dansk Mjød, Denmark
Produced by a one-man operation, Viking Blod is based on a traditional recipe from 1700. 100% natural product flavored with Hibiscus flowers and hops. Big, bold flavor with an upfront sweetness and spicy herbs on the nose; akin to a hearty Viking pie. (19% abv)

Single Variety Lime Tree Blossom, Die Hochland Imker, Austria
Found in the rolling countryside of the Muehlviertel in Upper Austria—between the valley of the Danube and the forests of Bohemia—the Hochland beekeepers are committed to maintaining the character of their region by adhering to organic principles. A bit more dryness on the palate than the previous-listed meads, with a clean, floral, lime flavor that pervades the silky mouth feel. (13.5% abv)
Get your honey on.