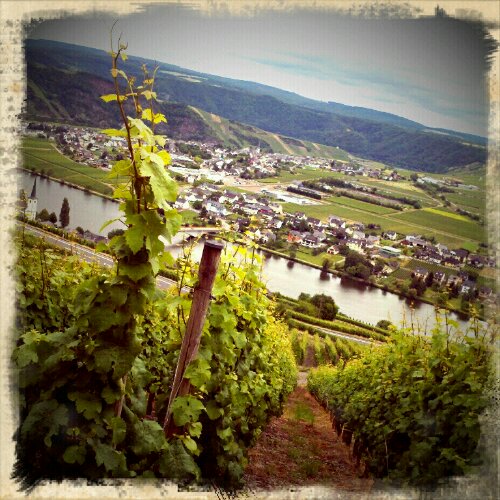 (I took this picture on June 13, 2011 at 12:52 pm)
The town of Piesport lies in the Mittlemosel subregion of the Mosel wine region in Germany (you can see the white chapel at the town's center in the far-left side of the picture).  Here, the Mosel river's walls rise up to 200 meters (700 feet) in some places and are made of grey slate. Standing in the vineyards is like standing on a pile of broken, fractured rocks.  All around, it's as if millions of chalkboards were smashed and scattered over the hillsides.  Seeing the vines rise from the rocks is surreal, as your mind can't quite understand why there is little to no visible dirt.  It's a mindfuck of the most beautiful caliber. 
The vineyards were first planted by the Romans in the 4th century, with Riesling being introduced in the 15th century.  By the 18th century, Riesling took firm hold and the conditions were determined to be perfect for this King of grapes.  Above the tiny town of Piesport lies the
Piesporter Goldtröpfchen
vineyard (where this pic was taken from).  Forming a dizzying ampitheater, it is sheer spectacle to behold. Actually being in this vineyard—after years of reading about it— was like seeing both Pearl Jam and the Red Hot Chili Peppers for the first time in the flesh at
Lollapalooza 1992
.  Awe inspiring.  Legend became reality.