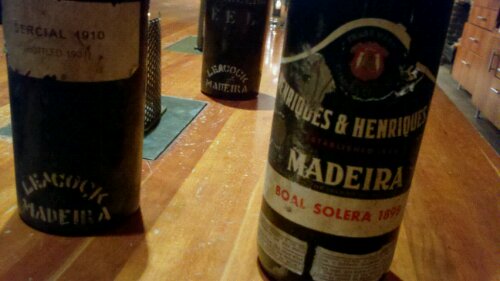 Mannie Berk of the Rare Wine Co. held a wee little Madeira dinner tonight at Hearth—and by "wee" I mean the "sickest line-up of old wines I've ever beheld in person."
I stood by somewhat slack-jawed as he pulled these incredibly old bottles out of his knapsack like a kid unloads his lunch box and Thermos at the elementary school lunch table.  (I'm going to guess Mannie's mother didn't pack him these, though.  And, sadly, my mother never packed me a Madeira over fifty years old…but we're a frugal family).
Pictured from left to right:  1910 Leacock Sercial Madeira, 1928 Leacock Verdelho Madeira EEL, and the 1898 Henriques & Henriques Boal Solera.