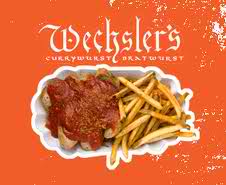 On First Avenue, in Manhattan's East Village, lies a little sliver of German sausage paradise…and, oh, the beer list…the sweet, sweet beer list.  From Currywurst to Bratwurst, and a few side routes into such hearty, meaty delights as Veal Loaf (Leberkaese) and Lamb Sausage, Wechsler's transports one to Berlin instantly upon crossing its threshold.
As you enter, it seems there is only a small bar outfitted with a massive draft beer tower and a small grill.  But walk ten more feet inside and a tiny lair opens up with wooden tables and stools, the walls festooned with old German beer posters and random kitsch.  Overall, there must be about 24 seats crammed into what feels like a dark, wooden doll's house cum secret meeting place for German beer lovers.  The only thing missing is the thick plumes of cigarette smoke and tables laden with pewter-lidded beer steins.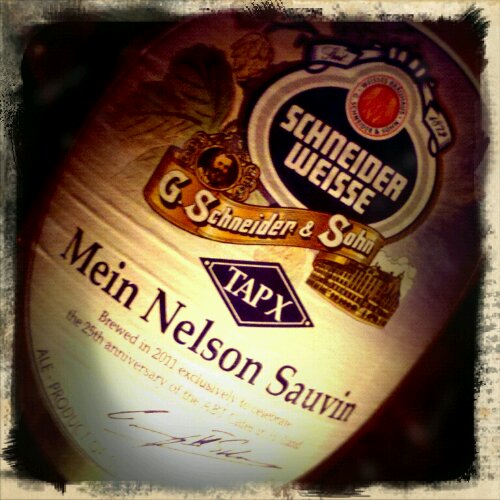 The tasty, meat-focused menu aside, the beer list is a haven of German delights.  From Kolsch to Weiss to Eisbock, they've got em all.  After snuggling into a tall glass of Reissdorf Kolsch, my eyes soon fixated on something truly special:  the Schneider Weisse Tap X Mein Nelson Sauvin.  Not one to normally mess around with experimental stuff, Bräuhaus G. Schneider & Sohn–one of the most classic Bavarian Weiss producers–used Nelson Sauvin hops from New Zealand. Adding a tropical fruit, peppery note to their traditional banana, clove and orange peel flavored Weisse beer, they've created something very tasty.
You gotta love the hole-in-the-walls you find in this city.  Beer chapels don't need to be grand in size…this Bavarian doll house will suffice.