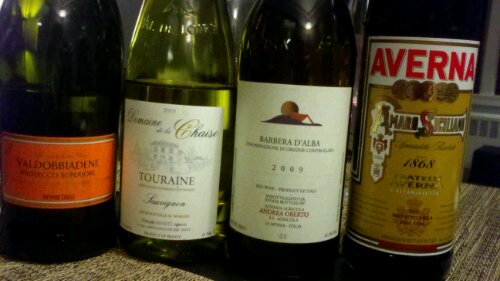 My English in-laws (and perhaps in a few states, outlaws?) rolled into town to begin laying grandparent groundwork.  Their first plan of attack was to prepare a heaping bowl of vegetable pasta.  And to compliment their efforts, I set off into the cold on a mission to the local wine shop.
Now pay attention, here's a surefire roadmap to put you on track for beverage greatness.  Be it a dinner with the in-laws, a first date, a graduation dinner, or a night celebrating the local cock fight champion, this will set you straight.   Don't deviate!  Follow this plan exactly:
Start the night with Prosecco while everyone's milling about, move to a crisp Loire white (like a Sauv Blanc from Touraine) just before sitting, then go with a juicy, tomato-friendly Barbera d'Alba with your pasta.  Success will follow.  Oh, but just wait for the coup de grace…when all is said and done, whip out the Amaro for a clean, post-dessert dismount.  You will achieve champion status.
You cannot fail with these instructions.  I guarantee it.