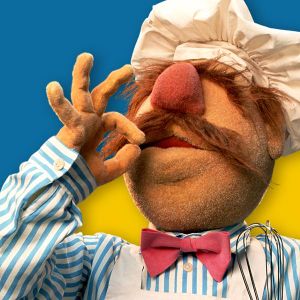 "Add the bittering hops now!"
"Yes, Chef!"
"Stir, man, stir!"
"Yes, Chef!"
"Don't let that malt extract boil over now; you'll never get the bloody stuff off the stove!"
"Yes, Chef!"
It was only a matter of time before top chefs stepped behind a brew kettle and made their own beer.  I mean, making beer is essentially cooking anyway, much more so than winemaking.  Winemaking is often "made in the vineyard", and man's role is to interfere as little as possible.  But beer, my friend, can be a mad chef's dream.
Let's break down the similarities between cooking and brewing:  1) You follow a recipe. 2) The recipe details what types of grains and hops to use, how much, when to add and how long to boil.  3) Like cooking, boil times are exact, temperatures are precise and timing is key.  All in all, it makes sense. You thought my lobster stock was good, says chef, wait till you gulp down a pint of this!
Well, two chefs have gotten in on the action: Ferran Adria from El Bulli in Spain and Floyd Cardoz of NYC's Tabla.  Working with experienced brewers, they've utilized their knowledge of spices and flavor combinations to create brews worthy of their names on the labels.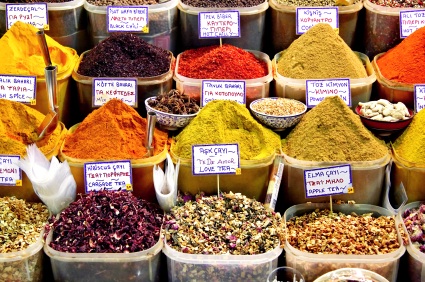 Brooklyn Brewery, with Garrett Oliver and Chef Cardoz at the helm, has released Cuvee de Cardoz. I got me some on a recent trip to Jimmy's No 43, and was wowed by the myriad spices and the seemingly impossible way that they all balanced together. Starting with a wheat beer base, Chef Cardoz adds a slew of spices that were ground and roasted in the Tabla kitchen. Ginger, tamarind, mace, black pepper, coriander, fennel, fenugreek, cinnamon, cloves, nutmeg, and chilies go in the kettle and then the beer is infused with toasted coconut after the fermentation. What what, you say? I know! As a home brewer, all these ingredients boggle my mind, but my palate was happy and intrigued by its complexity and slight heat on the finish.
Now let's hop the Atlantic to Spain. After countless decades of pairing wine with his dishes, Chef Ferran Adria felt that beer had been overlooked. In his true maniacal fashion, he decided to create the ultimate beer. Teaming up with mega-brewer Estrella Damm, Adria and his sommeliers released a hybrid beer called Inedit.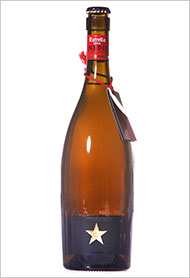 Where as one would never think to mix two beer styles together, they have done just that to create Inedit. A blend of Belgian wit-bier style Wheat Ale and a traditional lager, they attempt to capture the spicy, creamy texture of a wheat beer with the dry, bitter characteristics of a lager to make the perfect food-friendly brew.
I'm itching like mad to taste Inedit. It's available in limited quantities at Whole Foods Beer Room in NYC, but it's been continually out of stock. Apparently, other food, wine and beer geeks in the city are hot on its trail too. Chef Adria, I will happily accept an invitation to taste it firsthand at El Bulli. I mean if you want a solid review, its only natural I try it with your food. Airline tix can be sent to my attention please. And I prefer first-class. I'm kind of a tall dude.